LivCo Walls
Nine Murals. Nine Villages. Nine Festivals.
The first-ever county-wide mural festival hosted in New York State will be happening in Livingston County this July. The LivCo Walls Mural Festival will welcome nine international artists to paint large-scale murals in each of the nine villages of Livingston County.
The nine villages of Livingston County are: Avon, Caledonia, Dansville, Geneseo, Leicester, Lima, Livonia, Mount Morris and Nunda. Each community has a charming downtown district where the mural will be located. These downtowns are pedestrian friendly and easy to navigate and each is lined with historic sites, small shops, and eateries.
Watch the artists paint throughout the month, meet each artist at a local artist talk, and join us for the final unveiling of each mural over the course of three weekends at festivals featuring dedication ceremonies, art activities for families, food, craft beverages, art demonstrations, live music and performances, and so much more in each village.
View the complete LivCo Walls Guide below or download it for later here.
Saturday, July 23rd
On Main Street from 11am to 9pm
Mural Dedication Ceremony at 5pm
Muralist Talk on Thursday, July 21st at 6:30pm // Battle Street Brewery Tent
Schedule of Events
Dansville celebrates the arts through live music, chalking, and poetry. Enjoy fun, creative activities for all ages throughout the historic downtown.
llam to 4pm
Chalk Art on Main Street — Watch professional chalk artists create Dansville historical themed pieces. Rebecca & Derek Crocker at Genesee Valley Federal Credit Union, Melissa Gartz at Star Theatre, and Sonja Olbert at The VAULT
12pm to 2pm
Tours — At the American Red Cross/Clara Barton House Chapter #1
12pm to 3pm
Fairy Doors of Dansville - Take your picture with a life size fairy door outside Dogwood Trading Company
12pm to 4pm
Free Children's Arts and Crafts — Both self-directed and artist-led including mural coloring sheets to be exhibited on clothesline. "Peek-a-Boo Pebbles" with Jessica Taranko 12pm to 3pm. Find under tent in municipal lot
Sidewalk Chalking — All ages welcome on Main Street, chalk provided at Info Booth
12pm to 4:30pm
Musicians Performing on Main Street —
12pm to 1:30pm - Connie & Henry
1:30pm to 3pm - Michael Scott Smith
3pm to 4:30pm - Trevor Donlon
12pm to 5pm
Poet Benjamin Aleshire — Meet this self-described 21st-century troubadour who types individualized impromptu poems for attendees for free
12pm to 6pm
Vendors — Artists, Craft Artisans, Local Farmers in the municipal lot
12pm to 8pm
Scovill's Food — Scovill's Grill is serving pulled pork and chips in the municipal lot
Dansville Lion's Club Food — Dansville Lion's Club is serving beef on weck, salt potatoes, drinks in the municipal lot
Dansville Rotary Club — Dansville Rotary Club serving hamburgers, hot dogs, drinks under tent in municipal lot
Karen The Baker — In Municipal Lot
2pm to 4pm
Crafts — At Dansville Public Library
5:30pm to 8:30pm
Wine from Caffé Tazza and Craft Beer from Battle Street Brewery — Enjoy drinks with friends behind Caffé Tazza and connected to their property/rear entrance/garden
5:30pm to 9pm
Live Music — Lucky Number performs in the municipal lot, bring lawn chairs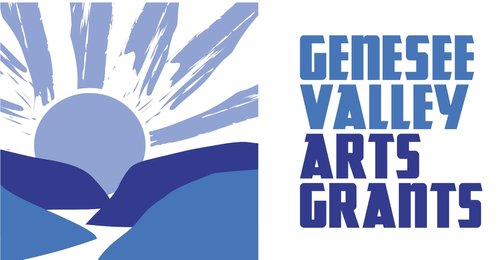 The Dansville Mural Festival is made possible with funds from the Statewide Community Regrant, a regrant program of the New York State Council on the Arts with the support of the office of the governor and the New York State Legislature and administered by the Genesee Valley Council on the Arts.
View all Events
View all July Events