LivCo Walls
Nine Murals. Nine Villages. Nine Festivals.
The first-ever county-wide mural festival hosted in New York State will be happening in Livingston County this July. The LivCo Walls Mural Festival will welcome nine international artists to paint large-scale murals in each of the nine villages of Livingston County.
The nine villages of Livingston County are: Avon, Caledonia, Dansville, Geneseo, Leicester, Lima, Livonia, Mount Morris and Nunda. Each community has a charming downtown district where the mural will be located. These downtowns are pedestrian friendly and easy to navigate and each is lined with historic sites, small shops, and eateries.
Watch the artists paint throughout the month, meet each artist at a local artist talk, and join us for the final unveiling of each mural over the course of three weekends at festivals featuring dedication ceremonies, art activities for families, food, craft beverages, art demonstrations, live music and performances, and so much more in each village.
View the complete LivCo Walls Guide below or download it for later here.
Saturday, July 16th
On Chestnut Street between Main Street and Public Parking from 12pm to 9pm
Mural Dedication Ceremony at 5pm
Muralist Talk on Friday, July 15th at 6pm // Gallery in the Valley
Schedule of Events
Be a part of public art with interactive murals, carvings, paintings, and drawings at the Geneseo celebration. Enjoy live music from local artists, lawn games, chalk art, and food and drink.
Art Activities from 12pm to 4pm
Community Oak Tree Outdoor Public Mural — Come make your own community art on the side of a building
Line Art Drawings — Color in prepared art designs or create your own
Paper Airplanes — Decorate your own paper airplane and participate in the "best flight" contest
Live Demonstrations — Live Carvings with Joanna Walters, Live Earring Making with Michael Fambro of Jazz House Designs, Live Record Painting with Gerald of Jazz House Designs, and Live Painting with Jessica Nielsen
Live Music from 12pm to 9pm
12pm to 2pm — Valley Rising - A folksy band with a range of musical compositions.
2pm to 5pm - Groveland Station - An Americana fiddle-boogie band that mixes swing, country, blues, bluegrass, and jazz.
5pm to 9pm - Bob's Brother's Band - A band that performs a wide variety of classic and current favorites with the occasional unexpected selection.
All Day
Food and Beverages — Available for sale with alcoholic options available after 4pm.
Chalk Art and Bubbles
Corn Hole — Play with friends and family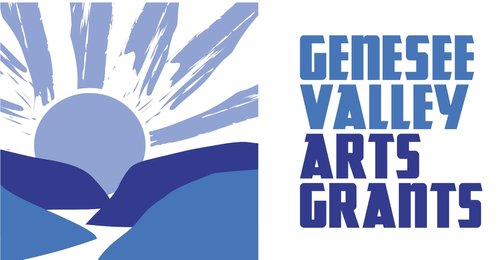 This project is made possible with funds from the Statewide Community Regrants Program, a regrant program of the New York State Council on the Arts with the support of The Office of the Governor and the New York State Legislature and administered by the Genesee Valley Council on the Arts.
View all Events
View all July Events